Last Updated on
If you're a photographer, you understand that making a living at your craft can be very difficult.
Because everyone with an iPhone can take a photograph, people are generally spending less money on portraiture, wedding photography and other services that were once lucrative opportunities for photographers.
Fortunately, selling photographs on Etsy is a great opportunity for photographers.
The online marketplace provides a space where you can have your work seen by photography enthusiasts and potential customers.
Learning how to sell photographs on Etsy can be challenging, so we've outlined a few tips to help get you started.
Frequent Questions
How to Start an Etsy Photography Shop
Etsy is a great platform for photographers to sell their work. The site offers exposure to customers that photographers wouldn't otherwise have access to.
(Need Etsy shop ideas? See our post here).
However, too many amazing photographers are afraid to open up shop on Etsy. They think it's complicated and overwhelming when, in fact, it's as easy as pressing the shutter button.
Here's how to start your own photography shop on Etsy…
---
1. Make an Account
If you don't already have an Etsy account, you need to register. It's easy. Just head to Etsy and click "Sell on Etsy". The registration process is self-explanatory. One thing to note is that you should create a shop banner (The Etsy banner size is 3360 x 840 pixels) and icon of your logo. Both these make your shop more professional.
2. Come Up With a Good Name
Your shop name is part of your brand. Choose carefully. You can go with your own name if you really want to, but the best photography shops on Etsy have clever, enticing names. Some of the most popular shops on the site are MacaronsAndMimosas, SewTrendyAccessories, and SunriseLaneCo. Much more eye-catching than a name like Rachel's Photography or Bobby's Photo Shop.
3. Upload Your Photos
Now it's time to put your stuff out there. Etsy makes it really easy to upload your photos. They have a lot of different printing options. For example, you can choose to sell your photos on printed paper like a traditional photographer or branch out and give your customers the option to buy tote bags, coffee mugs or other products with your pictures on them. It's up to you.
Once your shop is stocked, you'll need to set up your billing process and do some other administrative stuff. It's really easy.
Now get out there and start making money off your art!
Why Using A Marketplace Is A Solid Idea
Unlike creating your own, independent website on the web, starting with an Etsy shop means that customers will immediately start seeing your photographs.
This takes much of the trouble out of finding traffic, finding customers, and convincing Google that your site is good.
In fact, Etsy has proved itself as the best platform for selling all kinds of art, not just photography.
Not sure about Etsy? Here is our guide to the best place to sell your art online
Understanding Etsy
Before we get to the nuts and bolts of using Etsy, here is a brief overview of what Etsy is.
Way back in 2005, Etsy emerged as a marketplace for independent artisans. In other words, crafts people, furniture artisans, quilters, jewelers — you name it — now had place to sell their unique, handmade goods online.
Soon, Etsy began selling basically everything that you could find that required a personal touch, including photography.
As you might expect, the site exploded in popularity in those first years and has been growing ever since.
Market Your Photographs
As an artist, you should develop a voice for advertising yourself. After all, if you can't get the word out about your artwork, your clients will never be able to find you.
One mistake that photographers selling on Etsy often make is overlooking the importance of descriptions, thumbnails and keywords. These are tools that the platform gives you to market yourself and should be utilized as best as possible.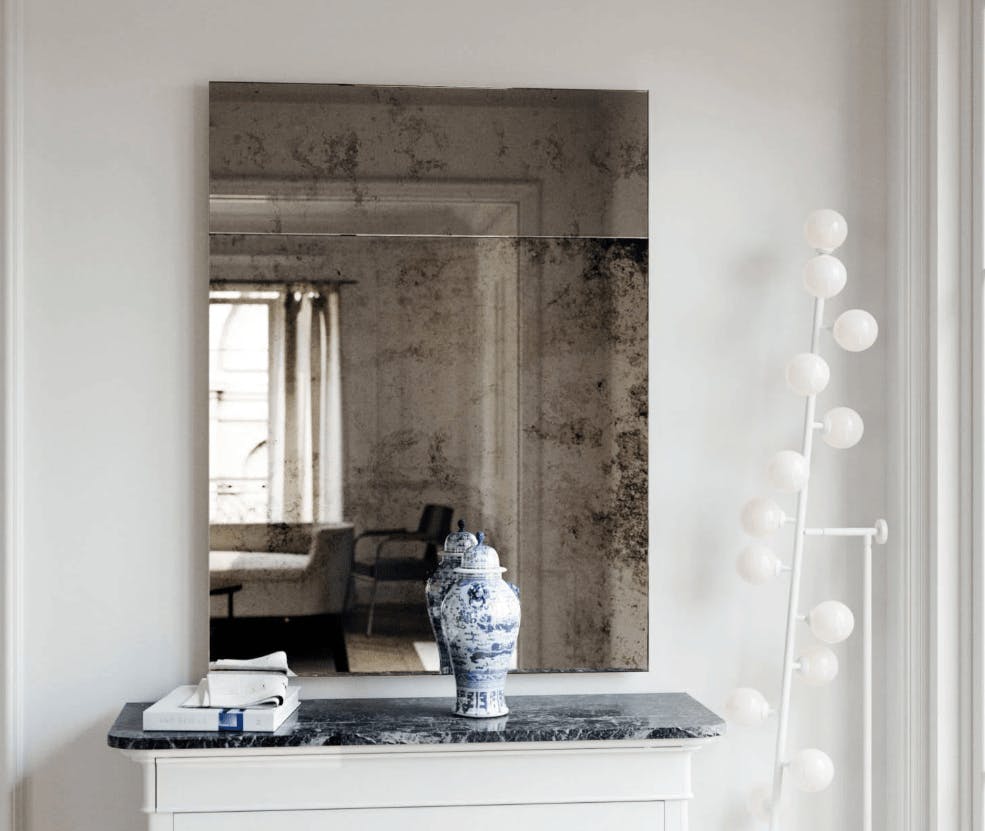 An In situation photo of a Mirror via Stage1255.com
Make your thumbnails look just as amazing as your photographs. You may want to shoot your prints against quirky backdrops to catch the browser's eye.
Additionally, make sure that your descriptions feature any words relevant to the photograph that a user might be searching for. If the image features a ferris wheel and a lollipop, make sure that these words are written in the description.
Read Etsy.com's guide to product photography
At the same time, do not limit yourself to straightforward, boring descriptions. Think of the text as an element of the photograph that can be used to sell it. Remember, your potential customers are looking for photographs they can see themselves living with and the text that surrounds it can help you attract them.
Need help with writing? Look at this guide from CopyBlogger
Develop A Plan – Should You Sell Physical Or Digital Photos on Etsy?
Like any businessperson, you'll have to do some planning in addition to selling your photographs. Thinking about how to deliver your work to customers is part of that planning.
If you are planning on selling physical photos, read our guide first.
Logistics and distribution are all part of your job. This means that you'll have to understand how to reach your customers, how you will print the photographs and how your customer will receive them.
Some photographers selling through Etsy, for example, don't print physical copies of their photos. Instead, they send their customers a digital file that can be printed wherever and whenever the buyer likes. This is a lower cost solution, which many consider much easier to do.
Get The Wheels Turning – Here are 50 Ideas for Etsy Businesses
When your photographs start to sell, you want to make sure that you're prepared for the orders. Get your envelops, packaging and postage ready ahead of time so that your clients receive their product promptly.
Make Your Photography Stand Out
Because platforms like Etsy attract so many aspiring artists, building an audience will require you to stand out from the crowd.
Remember that your potential buyers are browsing through dozens and dozens of photographs, searching for something that catches their eye.
Not sure where to start? Here is a guide to photographing your artwork
In order to attract customers, you'll want to add a personal touch that buyers can't find anywhere else.
This may mean that you shoot locations specific to your area, you edit your photos in a specific style or that your photographs feature handmade frames.
Whatever you do, make sure that your photographs are interesting and unique.
Here is the photographer Reddit forum, which has a ton of advice and real life stories of successful photographers
Last but not least, here is another guide to the best cameras for product photography
Where Can I Sell My Stock Photography?
Before selling stock photography, it is important to keep in mind that stock photography may not offer longevity and is considered more of a freelance or side job for extra money.
There are many websites which offer commission for stock photos, giving the artist a percentage each time the image is used. The largest platform to sell stock photos on would be Alamy, which gives the photographer 50 percent of each sale.
Other popular websites include: Fotolia, Adobe stock, getty images, iStock photo, and shutterstock. Keep in mind that these sites can be both strict, and selective.
What Should I Charge For A Digital Photo?
A digital photo varies in cost when selling on the market, especially online such as through platforms like Etsy.
There are many factors to consider before selling photos. These factors are dependent upon the intended audience, and the photographer him/herself, especially when it comes to digital photos.
The first aspect is to think about the time and money you have invested into shooting the photos. Were these for leisure? or with a purpose? Next, think, "is this original" and "If I sell this digitally will the quality be what the buyer paid for?" Price moderately at first then work upwards
Does Photography Sell Well On Etsy?
Etsy is a marketplace meant to connect artisans to audiences worldwide. Often times, makers of jewelry, posters, and all forms of art, post their creations for sale hoping to find an interested buyer. Photography is a form of art that also sells on Etsy, through the right methods and advertising.
By following these steps, photography can end up selling very well on Etsy. The first thing to consider is the account name of which the artist will use to advertise their work. This can be creative to gain traction. Another thing to consider is profile, thumbnails, and tags for wider reach.
Last Updated on